Sector Policy/Strategy
Water Point Data Exchange Standard
This tool provides a global standard for collecting and sharing data on water points.


Detailed description of Tool
The Water Point Data Exchange (WPDx) Standard provides a global framework for sharing water point data. The core attributes included in the Water Point Data Exchange are already being collected by governments, researchers, and organizations around the world. The standard is based on a robust desktop evaluation that reviewed over 2,500 attributes from 40 organizations around the world. This ensures that most organizations can already share the data they are collecting, with no changes needed. This standard was designed by a wide range of stakeholders from across sectors and around the world. From the initial desktop review of more than 40 monitoring frameworks to the diversity of the working group, the initial standard was the product of significant collaboration. This draft standard was then put online for extensive public comment and reviewed by over 100 experts worldwide.Lastly, the WPDx Standard is governed by a working group made of water and data experts from across the globe.
Go to website
Reviews
There are no reviews yet.
Be the first to review "Water Point Data Exchange Standard "
Add a review
Implementation reports
There are no implementation reports yet.
Add an implementation report
Other tools that could interest you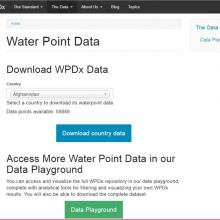 Water Point Data Exchange Global Data Repository
Year of publication:
2018
The Water Point Data Exchange Global Data Repository contains data on over half a million water points around the world and can be used to improve decisions and inform learning.


Read more
Planning Monitoring and Review
DiscoverWater.uk.org
Year of publication:
2020
DiscoverWater.co.uk is a 'dashboard' bringing together key information about water companies in England and Wales in one place for customers. The dashboard presents the data in a highly visual, clear and simple format, serving as an example for water companies in other countries.
Read more