Planning Monitoring and Review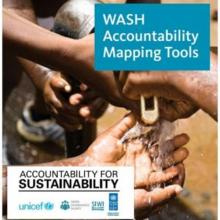 WASH Accountability Mapping Tools
Accountability mapping tools are participatory instruments developed to assess the status and quality of accountability lines within the water and sanitation sector. These spreadsheet-based tools produce graphics of
the water sector, represented as a comprehensive system of accountability relations involving policy makers, service providers and communities.


Detailed description of Tool
Created in 2016 by UNICEF in conjunction with the World Governance Facility, Stockholm International Water Institute (SIWI) and United Nations Development Programme (UNDP), the Accountability mapping tools has as its aim encouraging building systems that can deliver reliable water and sanitation services in the long-term.
The tools enable participants to assess the status of accountability relations existing between actors of the service delivery system in a quick and comprehensive manner.
• The assessment can be conducted as a quick sector snapshot or as an in-depth diagnosis at the
service delivery level.
• The process is based on a representation of the sector in the form of a triangle of accountability. The visualisation helps identify the actors and their relations as duty bearers and rights holders.
• The findings help identify areas for priority action and recommended actions.
Go to website
Reviews
There are no reviews yet.
Be the first to review "WASH Accountability Mapping Tools "
Add a review
Implementation reports
There are no implementation reports yet.
Add an implementation report
Other tools that could interest you
Understanding the WASH Sector
Year of publication:
2010
Intended for implementation partners and/or civil society organizations, this framework outlines how to carry out an analysis of the capability, accountability and responsiveness (CAR) of the WASH sector at the national level.

Read more
Institutional Arrangements
Realising the Human Rights to Water and Sanitation: A Handbook
Year of publication:
2014
This Handbook gives guidance on the implementation of the human rights to water and sanitation as defined by the international human rights legal framework. The main target audiences include governments at all levels, donors and national regulatory bodies, however, it provides information that will also be useful to civil society, service providers and human rights organisations.


Read more