Institutional Arrangements
A User's Guide to Poverty and Social Impact Analysis
This is a user guide for carrying out Poverty and Social impact analysis (PSIA) of policy reforms relevant to all sectors, including WASH. It also elaborates on the broad range of analytical tools and techniques that can be used for PSIA. It is intended for practitioners undertaking PSIA in developing countries.

Detailed description of Tool
Poverty and social impact analysis (PSIA) involves the analysis of the distributional impact of policy reforms on the well-being of different stakeholder groups, with a particular focus on the poor and vulnerable. PSIA is a systematic analytic approach, not a separate product.
Created by the World Bank in 2002, this User's Guide introduces the main concepts underlying PSIA, presents key elements of good practice approaches to PSIA, and highlights some of the main constraints and operational principles for PSIA. It is intended for practitioners undertaking PSIA in developing countries. This User's Guide also highlights some of the key tools that practitioners may find useful to analyze poverty and social impacts of policy reforms.
Download File
Reviews
There are no reviews yet.
Be the first to review "A User's Guide to Poverty and Social Impact Analysis "
Add a review
Implementation reports
There are no implementation reports yet.
Add an implementation report
Other tools that could interest you
Planning Monitoring and Review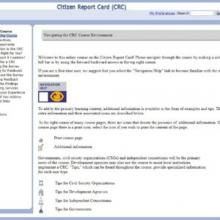 Citizen Report Card Learning Toolkit
Year of publication:
2006
This self-learning online course is provides basic knowledge and skills to implement Citizen Report Cards (CRCs). A CRC is a simple but powerful tool to provide public agencies with systematic feedback from users of public services. The target audience includes officers of local governments, civil society organizations, development agencies, and consortiums.


Read more
Planning Monitoring and Review
OECD Water Governance Indicator Framework
Year of publication:
2018
The Water Governance Indicator Framework provides a voluntary multi-stakeholder self-assessment tool to understand the performance of water governance systems at city, basin, regional or national scales. Its primary objective is to stimulate a transparent, neutral, open, inclusive and forward-looking dialogue across governments and other stakeholders on what works, what does not, what should be improved and who can do what. It is also a tool supporting the implementation of the OECD Principles on Water Governance.


Read more