Sector Financing
WASH SDG Costing Tool
The WASH SDG Costing Tool can be used by countries that would like to calculate the investments needed to fulfill the SDG targets as well as the financing gap.
The Tool comprises a spreadsheet, accompanied by easy-to-use guidelines available for download in PDF.

Detailed description of Tool
Created by UNICEF in 2017 and updated in 2020, this tool is useful to prepare the financial analysis for the Country Overview.
Countries which have not yet done their own costing of the SDG targets (6.1 and 6.2) can use the SDG Costing Tool to prepare their estimates. The Sanitation and Water for All (SWA) Secretariat, working with UNICEF provides direct support to countries that may require additional assistance to work with the tool. SWA has also created a brief set of Guidelines available in English, French, Spanish and Portuguese.
The updated tool is in the process of being translated. Click here to access the updated SDG Costing tool (Spreadsheet - 2020 version) 
You may access the 2017 tool here:
 - Download the tool (spreadsheet - xlsx file, 7.7MB): English |  French |  Spanish |  Portuguese
Download the English-language Guidelines by clicking the "Download PDF" button below.
Download PDF
Reviews
There are no reviews yet.
Be the first to review "WASH SDG Costing Tool "
Add a review
Implementation reports
There are no implementation reports yet.
Add an implementation report
Other tools in the same Building Block
IRC WASH Costing and Budgeting Tools
Year of publication:
2017
The tools have been developed by IRC, Water for People and Aguaconsult. They build on Water for People's "Everyone Forever" programme and IRC's work on life-cycle costing and financing of sustainable water and sanitation services.
This set of 4 WASH costing and budgeting tools aims to help analyse costs and create a financial overview at the district level.


Read more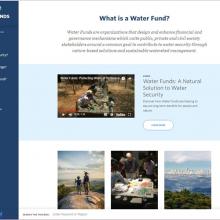 Waterfunds Toolbox
Year of publication:
2018
Water Funds are organizations that design and enhance financial and governance mechanisms which unite public, private and civil society stakeholders around a common goal to contribute to water security through nature-based solutions and sustainable watershed management. The Waterfunds Toolbox provides access to state-of-the-art knowledge on how to scope, design, and operate water funds. It was developed by Water Funds experts to help leaders succeed in developing Water Funds.


Read more