Sector Policy/Strategy
OECD Water Governance Indicator Framework
The Water Governance Indicator Framework provides a voluntary multi-stakeholder self-assessment tool to understand the performance of water governance systems at city, basin, regional or national scales. Its primary objective is to stimulate a transparent, neutral, open, inclusive and forward-looking dialogue across governments and other stakeholders on what works, what does not, what should be improved and who can do what. It is also a tool supporting the implementation of the OECD Principles on Water Governance.


Detailed description of Tool
The Water Governance Indicator Framework is conceived as a voluntary self-assessment tool to assess the state of play of water governance policy frameworks (what), institutions (who) and instruments (how), and their needed improvements over time. It is a tool supporting the implementation of the OECD Principles on Water Governance, adopted by the OECD Regional Development Committee in 2015. It is intended to be applicable across governance scales (local, basin, national, etc.) and water functions (water resources management, water services provisioning and water disaster risk reduction). It is grounded on a sound bottom-up and multi-stakeholder approach rather than a reporting, monitoring or benchmarking perspective, since governance responses to common water challenges are highly contextual and place-based.
The Water Governance Indicator Framework is composed of a Traffic light system of 36 water governance indicators (input and process) and a Checklist containing 100+questions on water governance. It is complemented by an Action Plan for discussion on future improvements of the water governance system in the short, medium and long run.
Governments and other stakeholders are invited to make the most of the proposed indicator framework for collectively identifying policies and strategies that can better address water challenges. Although much still remains to be done to propose a comprehensive framework for assessing water governance, the tools herein provided are a first concrete achievement that can significantly contribute to the development of better water policies for better lives.
Download File
Reviews
There are no reviews yet.
Be the first to review "OECD Water Governance Indicator Framework "
Add a review
Implementation reports
There are no implementation reports yet.
Add an implementation report
Other tools that could interest you
Planning Monitoring and Review
WASH Accountability Mapping Tools
Year of publication:
2016
Accountability mapping tools are participatory instruments developed to assess the status and quality of accountability lines within the water and sanitation sector. These spreadsheet-based tools produce graphics of
the water sector, represented as a comprehensive system of accountability relations involving policy makers, service providers and communities.


Read more
Institutional Arrangements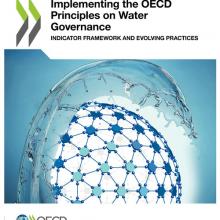 Evolving Water Governance Practices
Year of publication:
2018
This tool provides 50+ examples that document the implementation of the OECD Principles on Water Governance. The evolving practices provide lessons learnt at various levels (local, basin, national) as well as for policy frameworks, institutions and policy instruments, and could help with future implementation of the principles in interested cities, basins, regions and countries. It is aimed at policy makers, practitioners and other stakeholders wanting to learn from each other and aims to help them identify pitfalls to avoid when designing and implementing water policies.

Read more