Crosscutting Areas
Menstrual Hygiene Day Infographics
This collection of campaign infographics serve as a way to raise awareness on menstrual hygiene management (MHM). For the 28 May Menstrual Hygiene Day 2020, an infographic on the implications of COVID-19 on MHH has been created, including what action is needed during and after the pandemic. The campaign materials are available for all to download and use.

Detailed description of Tool
Menstrual Hygiene Day (MH Day) is a global advocacy platform that brings together the voices and actions of non-profits, government agencies, individuals, the private sector and the media to promote good menstrual hygiene management (MHM) for all women and girls. WASH United is the overall global coordinator of MH Day and its partner network comprising of >500 social impact organisations.
More specifically, MH Day:
breaks the silence, raises awareness and changes negative social norms around MHM, and
engages decision-makers to increase the political priority and catalyse action for MHM, at global, national and local levels.
Other infographics in the MH Day infographics collection include: Period friendly Toilets (2 versions); Education about Menstruation (English, Hindi, Portuguese); MHM and SDGs; MHM basics (English, Portuguese, German).
Go to website
Reviews
There are no reviews yet.
Be the first to review "Menstrual Hygiene Day Infographics "
Add a review
Implementation reports
There are no implementation reports yet.
Add an implementation report
Other tools in the same Building Block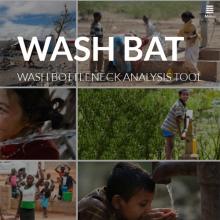 WASH Bottleneck Analysis Tool (WASH BAT)
Year of publication:
2011
WASH BAT has been designed as a sector tool for use by governments and development partners for WASH sector strengthening. It enables a systematic identification of factors (or "bottlenecks") that prevent achievement of sustainable service delivery within national or subnational WASH targets and helps stakeholders to define activities aimed at removing the root causes of these bottlenecks.


Read more
Defining Water Poverty and Evaluating Existing Information and Approaches to Reduce Water Poverty
Year of publication:
2020
This study provides practical insights and recommendations to water companies as well as for consumer bodies, regulators, policymakers, and the water industry more widely, aiming to enable the industry to take positive steps to address the challenge of water poverty. Chapter 6 in particular, "Approach Toolkit for Alleviating Poverity" while focusing on the UK water sector, could be useful in any part of the world.

Read more