Crosscutting Areas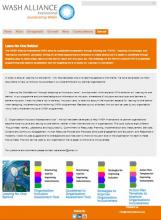 Leave No One Behind
In order to ensure "Leaving no one behind", the WASH Alliance International (WAI) has developed two tools to help improve inclusiveness in its programme and partner organisations: 
1) "Leaving No One Behind Through adopting an Inclusion Lens" (guidance document)  
2) "Organisation Inclusion Assessment Tool" (spreadsheet)

Detailed description of Tool
1. "Leaving No One Behind Through adopting an Inclusion Lens": is a document which explains WAI's ambition on "Leaving no one behind" in our programme and provides background information on inclusion, dimensions of inclusion and exclusion and barriers to achieve inclusion. It also includes a tool to develop "Inclusion Lens" to take into account the important aspects for "leaving no one behind" when designing, implementing and reviewing WASH programmes. Besides country alliances, this tool can be used by any organisation who'd like to implement inclusive WASH programmes.
2. "Organisation Inclusion Assessment Tool": this tool has been developed to help WASH Alliance and its partner organisations become more inclusive and leaving no one behind, neither in their interventions nor in organisations. This tools looks at eight different "Focus Areas" namely, Leadership and Accountability; Commitment of Resources; Planning, Implementation and Measurement; Services, Citizens and Community Engagement; Human Resource Policies and Practices; Employee Engagement and Education; and Response to Incidents. It also includes suggestions for strategies and activities plan to improve inclusion level of the organisation for each of these Focus Areas. This tool can be used by any organisation that is eager to improve its inclusiveness.
Go to website
Reviews
There are no reviews yet.
Be the first to review "Leave No One Behind "
Add a review
Implementation reports
There are no implementation reports yet.
Add an implementation report
Other tools in the same Building Block
Menstrual Hygiene Day Infographics
Year of publication:
2020
This collection of campaign infographics serve as a way to raise awareness on menstrual hygiene management (MHM). For the 28 May Menstrual Hygiene Day 2020, an infographic on the implications of COVID-19 on MHH has been created, including what action is needed during and after the pandemic. The campaign materials are available for all to download and use.

Read more
Risk Assessments for WASH
Year of publication:
2017
This tool and its proposed methodology set out an approach for conducting risk assessments for the WASH sector covering a wide range of hazard groups affecting the sector, as well as climate related risks in more detail. The tool is a resource for the WASH sector as a whole. While it focuses primarily on rural WASH services encompassing small-scale and community systems, the approach can be applied to both rural and urban settings.
Read more