Crosscutting Areas
Inclusive WASH: Equity and Inclusion Toolkit
This Toolkit compiles several tools into a 2-part manual that can be used to help make Aid Organizations' WASH programmes more inclusive. The tools are a combination of newly developed, existing and revised methods; largely based on experiences in the countries where WaterAid works.


Detailed description of Tool
Users of this Toolkit are invited to use the tools and adapt them in any way for their own use.
Part 1 of the Toolkit, called Mainstreaming equity and inclusion in WASH programmes and influencing, outlines several key principles for use across all of programmes and activities in order to achieve inclusive WASH. This is regardless of whether the focus is on practice, advocacy and influencing work, diversity and human resources, or raising awareness.
Part 1 is structured as follows:
Tools for the programme cycle: To plan, monitor and evaluate a programme in order to acheive inclusive practice.
Tools for general awareness-raising: To develop knowledge and understanding of inclusive practice.
Tools for advocacy and influencing: To influence and advocate policy-makers and othet stakeholders for more equitable and inclusive practice.
Tools for diversity and human resources: To ensure that an organization's work facilitates diversity and inclusive practice internally.
Each section briefly summarises the 'what', 'why' and 'how' of embedding inclusive practice, linking to the relevant tools.
Part 2 of the Toolkit, called The tools, contains the actual tools. They are indexed with a short description, and correspond to the numbers listed in Part 1.
Go to website
Reviews
There are no reviews yet.
Be the first to review "Inclusive WASH: Equity and Inclusion Toolkit "
Add a review
Implementation reports
There are no implementation reports yet.
Add an implementation report
Other tools in the same Building Block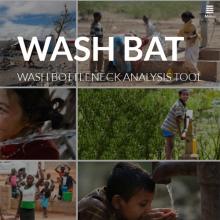 WASH Bottleneck Analysis Tool (WASH BAT)
Year of publication:
2011
WASH BAT has been designed as a sector tool for use by governments and development partners for WASH sector strengthening. It enables a systematic identification of factors (or "bottlenecks") that prevent achievement of sustainable service delivery within national or subnational WASH targets and helps stakeholders to define activities aimed at removing the root causes of these bottlenecks.


Read more
Understanding and addressing equality, non-discrimination and inclusion in water, sanitation and hygiene work
Year of publication:
2018
This toolkit gives practical guidance and support on reducing inequalities in WASH programme and advocacy work. It is primarily geared toward WaterAid staff and partners, but many of the principles and activities are equally relevant to other those working in other sectors of development.


Read more