Sector Financing
GUIDANCE NOTE Public Expenditure Review from the Perspective of the Water and Sanitation Sector
The objective of this Guidance Note is to provide World Bank staff with a body of knowledge and good practice guidelines to help them evaluate the allocation of public resources to water and sanitation services in a consistent manner and to increase their knowledge of public expenditure issues in the sector.

Detailed description of Tool
This Guidance Note, published by the World Banks' Water Partnership Program in 2012, discusses the challenges that are specific to public expenditure management in water and sanitation and the difficulties often involved in identifying sector expenditures. It is based on the analysis of the existing coverage, quality and results of the 42 Public Expenditure Reviews (PERs) covering water and sanitation undertaken from 2002–2010.
The challenges particular to this sector stem from three factors:
First, countries define water and sanitation differently (e.g., drainage may or may not be included, rural services may be considered separately).
Second, responsibilities for water and sanitation policy are often divided horizontally across government ministries and agencies, vertically between national and local governments and functionally among the public, private, and non-governmental sectors.
Third, the roles of these multiple actors may be unclear or overlapping.
The Guidance for Conducting PERs includes: identification and preparation; contents and minimum coverage of a PER; guidance on how a PER analysis can focus on results and measurement; dissemination; follow up and monitoring.
The publication includes interesting Annexes, such as:
ANNEX 1: List of Public Expenditure Reviews from 2003–2010
ANNEX 2: Data and Methodological Factors in Water Public Expenditure Reviews
ANNEX 5: Water and Sanitation Sector Public Expenditure Reviews—Selected Case Studies
Download PDF
Reviews
There are no reviews yet.
Be the first to review "GUIDANCE NOTE Public Expenditure Review from the Perspective of the Water and Sanitation Sector "
Add a review
Implementation reports
There are no implementation reports yet.
Add an implementation report
Other tools in the same Building Block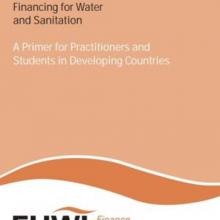 Financing for Water and Sanitation: a Primer for Practitioners and Students in Developing Countries
Year of publication:
2011
This Primer offers a non-technical introduction to financing for water and sanitation in developing countries.


Read more