Crosscutting Areas
Global Advocacy for Water, Sanitation, and Hygiene: A Resource Guide
This guide aims to serve as a tool for professionals, implementers, and advocates looking to pursue and promote WASH advocacy efforts. It provides a list of annotated resources that cover WASH and global advocacy, along with relevant organizations in the WASH advocacy field.


Detailed description of Tool
This guide explains that Advocacy is essential for effective partnerships, adequate funding, and long-term sustainability of development outcomes, and will be necessary for effective implementation of the SDGs.
Advocacy is defined as "the process of strategically managing and sharing knowledge to change and/or influence policies and practices that affect people's lives." This includes raising awareness at the grassroots level and with key influencers, creation or reformation of policies, and encouraging the effective implementation of those policies.
This guide lists dozens of WASH Advocacy resources, organized as follows:
Reports
Manuals
Resources for Advocacy Days
Campaigns and Advocacy Days
Annotated list of Organizations and Coalitions that support advocacy for WASH
Download PDF
Reviews
There are no reviews yet.
Be the first to review "Global Advocacy for Water, Sanitation, and Hygiene: A Resource Guide "
Add a review
Implementation reports
There are no implementation reports yet.
Add an implementation report
Other tools in the same Building Block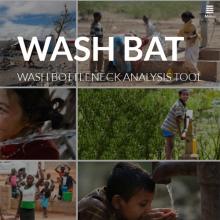 WASH Bottleneck Analysis Tool (WASH BAT)
Year of publication:
2011
WASH BAT has been designed as a sector tool for use by governments and development partners for WASH sector strengthening. It enables a systematic identification of factors (or "bottlenecks") that prevent achievement of sustainable service delivery within national or subnational WASH targets and helps stakeholders to define activities aimed at removing the root causes of these bottlenecks.


Read more
Institutional Arrangements
Realising the Human Rights to Water and Sanitation: A Handbook
Year of publication:
2014
This Handbook gives guidance on the implementation of the human rights to water and sanitation as defined by the international human rights legal framework. The main target audiences include governments at all levels, donors and national regulatory bodies, however, it provides information that will also be useful to civil society, service providers and human rights organisations.


Read more