Capacity Development
Enabling Environment for WASH e-Learning Course
This online course is intended to build the capacity of WASH professionals so they can support national governments in improving WASH service delivery. It presents existing approaches, processes, tools, resources, new thinking, and innovative mechanisms for strengthening the EE for WASH service delivery. The course course is open for self-enrollment and can be taken at the learner's own pace.


Detailed description of Tool
This online course was created by UNESCO in 2016. While it is suitable for anyone who wants to learn about strengthening the enabling environment for WASH service delivery, it is specifically intended for UNICEF WASH Chiefs and WASH focal points responsible for strengthening the enabling environment for WASH service delivery.
Length: Approximately five hours.
Methodology: Seven self paced modules. The "Introduction" module is a prerequisite and must be taken before the other modules. The remaining modules are stand alone and can be undertaken in any order.
Structure:
1. Introduction to WASH Enabling Environment
1.1 Political Leadership
2. Sector Policy and Strategy
3. Institutional Arrangements
3.1 Sector Coordination
3.2 Service Delivery Arrangements
3.3 Regulation and Accountability
4. Sector Planning
5. Sector Monitoring, Evaluation, and Learning
6. Sector Budgeting and Financing
7. Sector Capacity Development
Go to website
Reviews
There are no reviews yet.
Be the first to review "Enabling Environment for WASH e-Learning Course "
Add a review
Implementation reports
There are no implementation reports yet.
Add an implementation report
Other tools in the same Building Block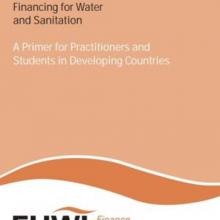 Financing for Water and Sanitation: a Primer for Practitioners and Students in Developing Countries
Year of publication:
2011
This Primer offers a non-technical introduction to financing for water and sanitation in developing countries.


Read more
Institutional Arrangements
WASH'em - Improving Handwashing Behaviour Change Programs in Humanitarian Crises
Year of publication:
2020
Aimed at humanitarian organizations WASH managers, Wash'Em is a process that includes tools, resources and software for rapidly designing evidence-based and context-adapted handwashing behaviour change programmes in emergencies.
Read more